Happy Holidays
2019 in review
Dear Friends,
I hope your 2019 was filled with happiness, good health, good friends and family.
We had a successful 2019, but it wasn't easy. Life isn't always unicorns and rainbows and neither is running a small all volunteer nonprofit organization. I haven't sent out a newsletter all year, I am sorry about that. I have a hard time writing when I am overwhelmed and this year I found myself overwhelmed often.  It wasn't until I was at one of our holiday events selling Tanzanian art to raise funds when I had a conversation with a supporter and expressed my reasons for not writing a newsletter…and she said "We want to hear the challenges too! Please write an honest newsletter".
So hear goes.
The good: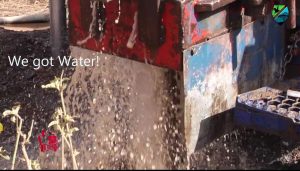 In February we were blessed with a generous donation to drill a water well. It was very exciting! We had a serious water problem and that has been solved thanks to Greta! We love our well and having access to  abundant clean water.  This makes Father Christmas Academy and TSF's campus in Tanzania a wonderful place to be!  Our tanks are full all the time and our staff and students often take bottles of clean water home with them!  To read more about it and see our videos click here.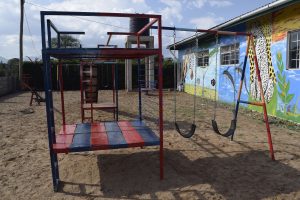 Our playground was finished in February too!  We were grateful for the hard work of local laborers and volunteers from the USA who did the hard lifting.  Our students were very excited to have place to play.  We were also blessed with a mural for our school building.  It was a joint effort of Tay Lion from California and Justin, a local painter.  It is a fabulous backdrop for the kids playground!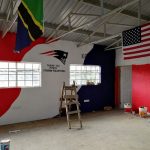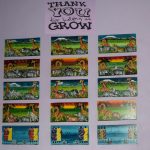 We finished our general assembly area, teacher toilets and teacher offices in early 2019.  Our thank you wall and tribute to our Gillette Stadium volunteers was completed too.  Our thank you wall has room for more plaques.  Donate $5,000+ and your name could be on our wall too!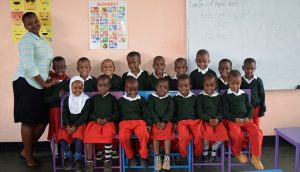 Two of our classrooms were filled with Pre-Kindergarten and Kindergarten children! It was a joy to see their academic progress throughout the year.   They grew leaps and bounds in all areas at the end of the school year their uniforms were quite small too.  School is closed for the holidays and a new School year begins on January 8th!  We look forward to returning and new students to join us.
In October, we started building our fifth classroom. It should be finished within the next month…this build enabled us to get registered with the Ministry of Education as a primary school. It still needs a lot of work and we are working hard on raising the roof, installing windows, buying new desks and chairs, and making it a happy place!  We look forward  to filling it with smiling children in the upcoming years.  A great big THANK YOU to our Gillette Stadium volunteers who made it possible!
A School Bus!
Earlier this month we purchased a school bus with a donation from a generous donor and true believer in what we do!  We are so excited to enroll more children in the upcoming weeks from a wider area!  Our school year begins soon, and registration is underway as I type.  We still have to put our logo and school name on the bus and insure it.  
The Challenges
In June we survived an IRS audit.  This was the start of my anxiety.  I was not doubtful of passing their exam… I was overwhelmed with the amount of work it entailed.  I was heading to Tanzania in eight days and six of them were booked with fundraising events.  I spent over 100 hours working with our BOD on their request and getting things organized, copied and in order.  I finally sent off four pounds of paperwork to Ogden Utah's IRS office and left for Tanzania the next day.  I remember thinking, you got to be kidding me, they are wasting time with our itsy bitsy tiny organization.  Six weeks later they called me to tell me they were closing our file.  Phew…one thing closed another opened.
We had a disgruntled former laborer in Tanzania who decided to file a labor case against Fr. Christmas Academy.  He basically tried to extort 4,750,000Tsh ($2350) from a school that has little to zero income.  His claim had many inconsistencies in it and the school never employed him.  I have learned that desperate people do desperate things.  He and his street lawyers called immigration based on lies that he reported, had TRA (equivalent of the IRS) call our staff in for a meeting, had people throwing stones at our staff in Tanzania and threw kerosene in my kitchen window.
Immigration came onto our campus  two days after I arrived and practically arrested me without any cause.   The TRA exam was uneventful, because as a foreigner, I make sure TSF Tanzania pays more taxes than they  have to.  As for the throwing of stones and kerosene, we spent a day at the police station filing reports.   I was never so happy to come back to the USA.  But the stress still lingers as does this labor case.  January 23rd FCA has to go through arbitration with this trouble maker.  
Funding
With all this growth, comes a lot more expense.   The sustainability part gets me anxious.  
In 2019 we had seven student sponsors and we had 36 students Those seven sponsor's donations was pooled together to help sponsor all of our students and I filled in the rest with the sales of our Tanzanian art.  Everyone of our students needs some sort of aid.  The cost of educating one primary school child is $1,200 per year.  A pre K or Kindergarten child's education cost $600 per year.  All of our students will pay a partial school fee based on their ability to pay in 2020.  TSF USA has to subsidize the rest totaling thousands of dollars a year.  We are looking at a $40,000 deficit in 2020…and I am stressed out.  Sometimes I just want to run, get a normal job and blend into the American mainstream.  Other times I cry unknown as to how this deficit will be covered, yet determined to make it work.  Ask my good friends and family the anxiety this causes… We need student sponsors, we need corporate sponsors and foundation sponsors.  
As our campus grows so do our expenses.  We built a beautiful campus…our classrooms need new doors, fresh paint, new whiteboards, electricity, our new found water is wonderful, but our pipes spring leaks and need fixing often, and we need additional electricity to run our pump.  The bathrooms are often in need new valves, new toilet parts, new tiles and plumbing.  We need new light bulbs, new fixtures, new switches.  We have to pay insurance, land tax, water usage permits, multiple government fees and more.  As we grow, so do our costs…unfortunately our revenue has not increased.  I don't know how I can continue to keep it all together.
In a nut shell…we need help desperately.  We need a corporate sponsor or two.  We need grant money from a Foundation or two annually…we are doing wonderful work.  The need is great and with your help, we can continue our work!
Thank you!
We are so grateful for our student sponsors, ongoing donors and those who help with our campus growth…we couldn't do it with you!  I know all of our staff, students and TSF & FCA Tanzania community are forever grateful.  Thank you so much!
In Closing.
We are working on a sustainability plan, but unfortunately it is not foreseeable for at least 4 years.  If you can help us through this time, our students, staff and families in Tanzania would be very grateful.
To help now…click on any of links below.
Thanks for reading this through…I am personally  grateful to all of you who following me on this journey…Sometimes it feels like the car I am driving is out of control, thank you all for helping me get back on the course.
Hoping your 2020 is filled with all good wishes, health, and friends.
Remember, we have volunteer housing in Tanzania and can arrange that dream safari or Kilimanjaro climb.  Why not make it your destination in 2020, we would love to see you there.
Love,
Christine