Our Artwork is at  the Beyond King Tut Exhibit in Boston!
We were excited to challenge our artisans in Tanzania with new ideas.   
Prints and Ornaments are available in the Beyond King Tut Gift shop in Boston
We have original artwork, coasters and a wider variety of prints available on our site!
5 x 7 Prints ( Matted 8 x 10)
King Tut Christmas Ornaments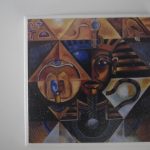 Original Artwork – Paintings