Our year end review…
Dear Friends,
2018 was another unforgettable year for the Tanzania School Foundation.
Fr. Christmas Academy celebrated its official grand opening welcoming over 20 new students and welcoming five new staff members. As we reflect back on 2018, we are amazed to see how far we have come in educating the future leaders of Tanzania.
We are growing!
We received our official registration by the Ministry of Education in 2018 and our first official students just finished their first year with us.
We look forward to welcoming an additional 30 youngsters to our preschool class next month and expanding our educational services to grade one and two, government school students opening our classrooms as an afternoon learning center. Our school will also serve as English classes to secondary school students two times a week, and we look forward to implementing a young women empowerment class to secondary school girls. We have big plans for 2019!
Thank you!
We have so much to be thankful for. We have a great team on the ground in Tanzania year round who keep things growing when I am in the USA raising funds for our work.
2018 was a year of electricity too! we are so grateful Tanesco moved us to the top of their waiting list. Our office and classrooms have computers, printers, music and lights! We even have a Christmas tree with blinking lights all year long!
We doubled our staff, furnished all our classrooms and offices, sold our previous plot of land and expanded our campus building adding: 1 classroom, an large assembly area, two teacher offices, two teacher toilets, water tower and a new septic system. Construction is still in progress and we hope to have it completed shortly after the New Year. Our new playground equipment will be installed after the building is complete and we are so excited!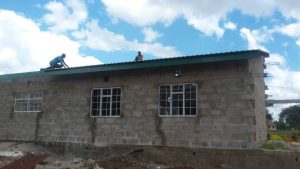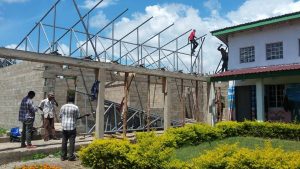 The student population at Fr. Christmas Academy consists of both children that can afford to pay school fees and children born into poverty who cannot afford a quality education. We are so thankful to our generous individuals that sponsor a child to end the cycle of poverty for those children. With so much growth planned in 2019, we are looking for additional sponsors to increase poor students served. click here to get involved.
We love visitors!
We were blessed with visitors from 3 continents and 8 countries in 2018!
Consider your Tanzania experience in 2019! Spend time with our students, visit the beautiful national parks and experience the beauty of nature with the great migration or climb Mt. Kilimanjaro. Aside from a wonderful visit at Fr. Christmas Academy, Tanzania is a beautiful country rich with culture, hospitality and an amazing safari experience. Our guest rooms should be completed in early 2019! We can arrange all aspects of your perfect Tanzania holiday.
My little house is finished and quite lovely. I love living on campus when in Tanzania. Welcome to Tanzania!
As 2018 winds down and it is time for all of us to spend time with our families, I wanted to say thank you for making us what we are today. We look forward to your continued support and look forward to sharing our good work with you!
Best wishes for a blessed holiday season and a healthy and happy 2019!
Hugs,
Christine
Follow us on Facebook or Instagram to get up to date information!