Schools open in Tanzania
Dear Friends,
I hope this finds you well.   We just wrapped up another fiscal year and as we look back on our year, we are grateful for all that we have accomplished.   We look forward to the upcoming year with optimism even as the pandemic swirls around us.
To all who purchased face masks in April and May, THANK YOU!  Over 500 were sold and we raised over $3000 and supported many tailors in the process!  We still have many available, our tailors have perfected them over time and we still have some in stock!  (order here)
News from Tanzania:  Tanzania has remained open throughout the COVID pandemic.  Tanzania has not released any Covid data since April 29th.   Due to the uncertainty around the pandemic in Tanzania, we are not accepting volunteers or recommending anyone travel to Tanzania until data is made public or a vaccine is available. The Tanzania tourism sector, imports, exports and mining are suffering dearly. The World Bank anticipates 500,000 additional persons living in extreme poverty by the end of the year. World bank article
Over the past three months, I have received 50+ requests for food assistance from many:  Artisans, contractors, friends, furloughed staff, safari guides etc.   We have been distributing care packages for our school community and some local villagers throughout.   We have supported many others by sending them some funds through M-Pesa (a phone app) so they could buy food for their families.   This is an unprecedented time.  A very stressful time for me…  Imagine waking up every day to messages pleading for help.  Together we are doing the best we can, and I can honestly say we are saving lives.
We also have five staff we have been providing a monthly stipend as well as housing and food.  They make what we do possible on the ground in Tanzania and you make it all possible through your support.   I love the teamwork!
Tanzania announced in mid-June that all schools were to open at the end June.  With less than two weeks' notice and a lot to take into consideration we are working towards our own goal of opening as soon as possible.   We needed to implement hand washing stations in every classroom and entry ways, we need to insure sanitization systems were in place, obtain face masks for all students and put in social distancing measures.
Our sinks are now installed, and we are just about ready to re-open.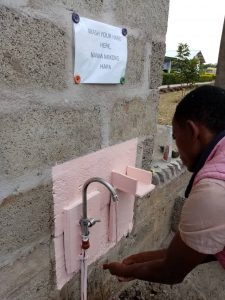 We have some big news coming very soon.  Be sure to check your in box later this week to see how you can get involved as we embark on an idea to make our school sustainable within two years and share an exciting way you can get involved!
Thank you for all you do.
Hugs,
Christine